In this section, I attempt to limit myself to ten favorite pieces of fraktur literature. Of course, many wonderful books and articles are left behind, especially by prolific authors such as Professor Don Yoder, Pastor Fred Weiser, the Earnests, Mary Jane Lederach Hershey, Clarke Hess and others. With that caveat, I hope the list provides a useful gateway to the literature.
To find the books, review the advice presented in the Fraktur Bibliography section and remember that your library can track down publications for you. In addition, the Related Resources page features a section on Publications. Here you will find links to many of the non-profit publishers and a search engine for the used book market.
Bucks County Fraktur
Edited by Cory M. Amsler, contrib., Joel D. Alderfer [et. al.]
The Pennsylvania German Society [Publications] v. 33 1999[2001] Doylestown, PA, Bucks Co. Historical Society and the Pennsylvania German Society
ISBN 091112201X, LCCN 2001132658, OCLC 33429121
The proceedings of an important symposium on fraktur are published along with a beautifully illustrated catalog of pieces from Bucks County. The essays by Professor Don Yoder and others are important in their own right. See Clark Hess's Mennonite Arts (Schiffer Publ., 2002) for excellent research from a Lancaster County native.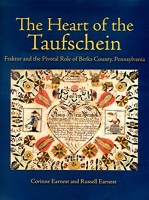 Earnest, Corinne P., Russell D. Earnest;
edited by Thomas J. Gerhart
The heart of the taufschein, fraktur and the pivotal role of Berks County, Pennsylvania
Kutztown, PA, Pennsylvania German Society, 2012
ISBN 9780911122633, LCCN: 2010932162
The Earnests are our most productive current scholars of fraktur. Their strength is their amazingly thorough knowledge of the artists. In this volume, their subjects, such as Daniel Schumacher, Heinrich Otto, Friedrich Krebs, and others, begin to come alive as people and fraktur practicianers. The Earnests accomplish this through a fund of knowledge so large that they are able to infer aspects of the artists' lives that otherwise escape recognition. Their close association with the late Klaus Stopp also enables them to draw insightful conclusions on the use of printed forms versus those that are hand drawn. The role of Berks County actually is incidental to these contributions. The book is beautifully edited and produced.
Borneman, Henry S.
Pennsylvania German illuminated manuscripts, a classification of Fraktur-Schriften and an inquiry into their history and art
Proceedings and papers of the Pennsylvania German Society v. 46 1937 (rev. ed. Dover Publications, 1973, LCCN 72095047) Norristown, Pennsylvania German Society
LCCN 38004824, OCLC 2114223
A major early collector, Borneman also was an insightful researcher. In this beautifully produced oversized volume, he reproduces many pieces of the collection that forms the core of that of the Philadelphia Free Library and proposes a still-used classification scheme for fraktur.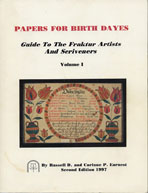 Earnest, Russell D. and Corinne P. Earnest.
Papers for birth dayes, guide to the fraktur artists and scriveners
2d ed. 2 vols. 1997 East Berlin, PA Russell D. Earnest Assoc.
ISBN 1879311119, LCCN 97202342
This is an essential handbook of fraktur studies and any researcher pursuing information on particular artists should have a copy at hand. Based on an incredible amount of meticulous research, the Earnests describe the state of biographical and artistic knowledge as of the late 90's, as well as the provenance of known fraktur pieces. (How about an updated edition in color??)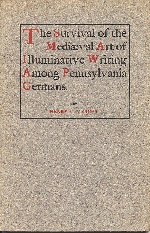 Mercer, Henry C.
The survival of the medieval art of illuminative writing among the Pennsylvania Germans
Proceedings of the American Philosophical Society v. 36:156 Sept. 17, 1897, pp. 423-433 Philadelphia , the American Philosophical Society
ISSN 0003-049X, LCCN 12-30251, OCLC 1480557
This essay essentially started fraktur research in the 1890s. Mercer's piece was the best (and only) source for decades, although it is not, as is often assumed, the first reference to fraktur. Mercer based his analysis on items held by the Bucks County Historical Society. The thrill of discovery of the previously unexplored field still shines through.
Moyer, Dennis K.
Fraktur writings and folk art drawings of the Schwenkfelder Library collection
Publications of the Pennsylvania German Society v. 31 1998 Kutztown The Pennsylvania German Society
ISBN 0935980121, LCCN 98089609, OCLC 40774880
A wonderfully illustrated, ground-breaking description of fraktur by a small sect whose members produced some the most beautiful work. The author, former Director of the Schwenkfelder Library, organizes his work by settlement locale of the Schwenkfelders, making it a fine history of the region and local culture, as well.
Shelley, Donald A.
The fraktur-writings or illuminated manuscripts of the Pennsylvania Germans
Pennsylvania German Folklore Society [Yearbook] v. 23 1961 Allentown Pennsylvania German Folklore Society
LCCN 61065197, OCLC 908060
After more than forty years, this is still the one book on fraktur to read if you can read just one. Shelley is a well-credentialed scholar in the art-historical tradition and the book culminates twenty years of research, including examination of European antecedents. He claims that fraktur stems from a medieval manuscript tradition "transplanted, adapted and rejuvenated" in America, making fraktur a form of "memory art."
Stoudt, John Joseph
Pennsylvania German folk art, an interpretation Pennsylvania German Folklore Society [Yearbook] v. 28 1966 Allentown Pennsylvania German Folklore
LCCN 38-18408, sn 90-24026, OCLC 1776164, OCLC 905357 (monograph)
This is a revision of Consider the Lilies, How They Grow, published in 1937. Stoudt's main thesis is that folk art does not represent the natural world, as claimed by Weiser (below) but depicts the transcendent one. He theorizes the sources of Pennsylvania Dutch iconography and maintains that it is rooted in the Christian mystical tradition. Along the way, he sweeps in medieval symbolism, the symbolic mood of Pennsylvania pietism and Jung's archetypes of the psyche. Stoudt's theories are often disparaged but also frequently quoted.
Weiser, Frederick S.
Piety and protocol in folk art, Pennsylvania German fraktur birth and baptismal certificates
Winterthur Portfolio v. 8 1973 pp. 19-44 University Press of Virginia for Winterthur Museum
ISSN 0084-0416; LCCN 64-7642; sn 79-4920, OCLC 1332742
Pastor Weiser, one of the dominant figures of fraktur studies, summarizes the basic importance of the most popular form of fraktur. Counter the symbolist school, he says that the wide variety of Taufschein designs indicate that they were employed for their inherent beauty and popular appeal while the text contained religious meaning. Weiser says that the Taufschein is "a record and reminder of the sacrament's meaning, a natural repository for further information about the individual and his family…the objects depicted suggest occupations, avocations and the free play of the artist's imagination rather than religious profession." Pastor Weiser also is well known for a series of articles identifying particular artists and for a monumental illustrated catalog of the Free Library of Philadelphia collection.
Yoder, Don
Fraktur in Mennonite culture
Mennonite Quarterly Review v. 48:3 July, 1974, pp. 305-342 Goshen, Mennonite Historical Society
ISSN 0025-9373, LCCN 31-5309, OCLC 1638991
Professor Yoder lays down powerful themes that recur through his later work, including his wonderful The Picture-Bible of Ludwig Denig, a Pennsylvania German Emblem Book (1990). These include his explanation of fraktur as a folk art, the expression of a community's ideals and hopes in compact and visual form; that Mennonite fraktur is Pennsylvania German art of the sect variety dominated by Vorschriften, rather than the Taufscheine of the "church" groups; that fraktur is Protestant art and, thus, Bible-centered and word centered; that most Pennsylvania German fraktur features a text embellished by symbolic graphical forms; and that fraktur is the "manuscript art" of the Pennsylvania Germans, referring to decoration of paper with calligraphic texts and related designs, figures, and symbols. Look to Professor Yoder for explanation of connections between fraktur and contemporaneous trends in religious thought, graphical folk art, and calligraphy.